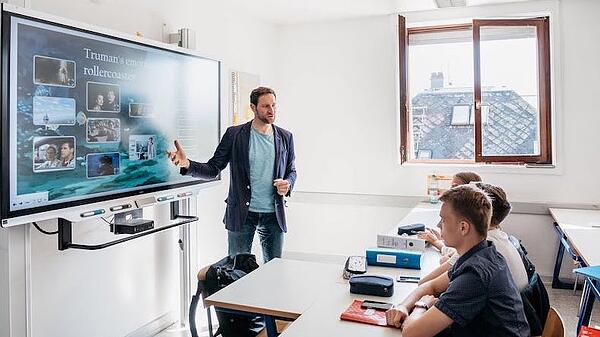 One way to improve the efficiency of your office workflow is to incorporate smart boards. Unlike traditionally, where most businesses use snail mail and pagers, the smartboard is a more advanced communication strategy. It allows a large amount of data and information to be presented to teammates effectively. However, it's critical to ensure you source your business technology solutions from a reputable and experienced company to avoid making mistakes that could jeopardize the whole idea. The smartboard for business allows you to incorporate technology into a meeting, making it easy to understand what is up. This article will explore everything you need to know about smart boards.
So, What's Smartboard for Business Basics?
Smartboards are interactive display that enables you to present and share information dynamically and engagingly. Further, the display can connect to WIFI and other internet sources. It's important to note that this display can be a touch screen and showcase it using a pointing device or a mouse. Various things are displayed when purchasing, such as presentation, collaboration, and interaction. You should also note that they come in multiple shapes and sizes, depending on your preference.
Ways to Use a Smartboard for Business
Many companies are unsure if they need smartboards and where to use them. To effectively use your smartboard and ensure a return on investment, you need to consider why you need a smartboard and how it should be used. Below are some of the most popular ways to use your smartboard.
Office Collaboration
The smartboards help co-workers interact, meet and discuss issues they face. This helps encourage team building which helps increase productivity. Further, the smart boards allow the users to integrate their office software with their presentation making it easy for all the participants to access the same files. This makes it easier for companies' employees to interact, making it easier for better production.
Training Rooms
When running a business, you must ensure every employee knows what is expected of them and how they should work. To teach them effectively, consider using smartboards to create more engaging and interactive presentations than regular PowerPoint slides. In addition, it allows the presenter to manipulate a diagram and graphic projected on the screen as they speak to showcase what needs to be done. This means that you spend less money on things like physical equipment and helps you focus more on engaging with the employees and providing them with the necessary tools they need for success.
Brainstorming Sessions
One way to make your business more productive is to ensure you can solve the existing problems. The smartboards allow employees to hold brainstorming sessions that will enable them to face complicated company issues. When brainstorming, you get new and better ideas, and with a smartboard, you can present them and implement them accordingly. Brainstorming allows you to look for more unique ideas and evaluate a solution from all angles to ensure that it will not affect significant business operations but boost your company's productivity.
End Note!                                                                                
The above is a crucial thing that you need to keep in mind when considering a smart board. It's critical to get it from a reputable company to get the right size that will meet your company's needs.