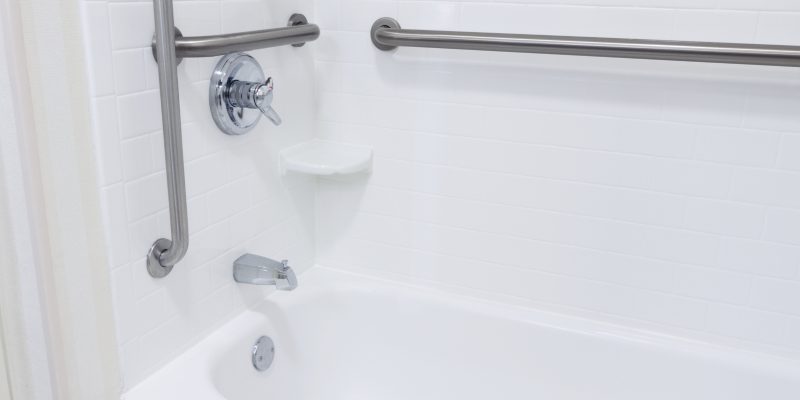 Injuries and accidents occur more frequently among the elderly and the disabled. One of the most frequent domestic injury culprits is the slippery shower cubicle. Making your shower stall ADA-compliant and not forgetting ADA-compliant sidewalk are just a few strategies for avoiding this.
Installing an ADA-compliant shower pan, grab bars, enclosure, faucets, bench, and shower heads will make your shower stall suitable for people with disabilities.
Here are some suggestions for making your shower cubicle ADA-compliant so that your disabled or elderly loved ones can continue living in their own home with more safety and independence.
Safety rails
A sturdy handhold in the shower is very helpful for the elderly and the disabled. This aids in the stabilization and stops the user from sliding about. Grab bars should be installed in horizontal and vertical planes so that a person can always acquire a good grip on them if needed.
All grab bars must be firmly installed into the walls. Ensure the grab bars are installed at the proper height and are sturdy enough to hold the weight of your elderly or disabled relative by following ADA regulations.
Enclosure
A separate enclosure for the shower ensures that the water stays in just one area. Because of this, the floor's surface area is kept relatively dry. The room is one of the most critical factors when putting up an enclosure.
In particular, those in wheelchairs should be able to access your enclosure easily. You should be able to move about freely in a wheelchair. A section tailored to their unique specifications is also available. The floors of such spaces might benefit from the installation of ADA-compliant shower pans.
Faucet
Selecting a single-handle mixing faucet will make using it much more convenient. If you like, you can choose a computer-operated faucet instead. Using a computer, the faucet's temperature may be regulated, and the water heated to the desired level of comfort. In addition to being user-friendly, this gives you peace of mind that your loved ones are protected.
Bench
A seat can allow the user to sit while using a handheld shower, making this a more convenient option. A standard ADA bench height is recommended. Bench height is essential, but you must also ensure it's wide enough.
Depending on who needs it most, you may put either a single or shower bench. A folding seat is an excellent option if you share your shower with multiple family members.
The Shower Head
The shower head, which is situated on a sliding bar, can be reached by anybody, including a member who uses a wheelchair of the family. Choose a shower head that can be detached and utilized as a handheld shower for maximum flexibility.
Locks that can be unlocked from the outside are another option for making your shower stall ADA-compatible. Having a panic button in the stall is an innovative safety measure. To further increase the security of your shower stall, you may also choose to install an ADA shower pan.