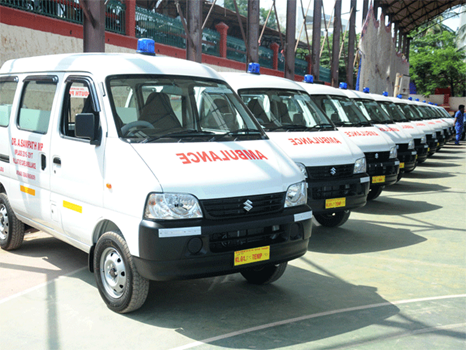 Ambulance plays a significant role when it comes to the matter of death and life. This is the reason that when an ambulance approaches a busy traffic road with emergency siren sound, other vehicles give it was to go ahead. However, there are several caseswhere the ambulances are used for personal purposes or some other job. A few months back, a person was caught by Bengaluru police for misusing the ambulance. He used to ferry people to their offices during peak hours, using false siren to evade the traffic. This is just one example, but there are several other cases similar to this incident.
Therefore, hospitals or organizations providing ambulance services need to keep a close eye on the movement of these vehicles and KENT CamEye can help in doing this task tactfully. KENT CamEye offers a complete solution in managing a numbers of ambulances single-handedly.
Here's how this dash cam with GPS can help you stay in touch with the operation of ambulance fleet all the time:
Get to know when the ambulance vehicle starts a trip:
Ambulance rushes on a single call to bring patients to the hospitals. As a fleet manager, you would get to know every time the ambulance would be on an emergency call. But, there are times when these vehicles don't travel on duty demands, rather they move on roads for personal tasks. Moreover, these trips are not registered in your official records, so you don't get to know whether they are used correctly or not.
To overcome this worry, you can bring in the use of KENT CamEye. It helps you stay aware of every move your ambulance would make. Every time the ambulance will start a trip, you would be notified at the same time. Therefore, no trip can go unnoticed from your sight.
Check if the persons inside are genuine or not:
There could be chances wherein the person sitting inside the ambulance won't be in a medical crisis. The driver or in-charge might use the vehicle to meet personal needs. So, if somewhere a patient needs the ambulance urgently, it could be at other place serving personal benefits.
You must catch up with all the important information required for the appropriate operation of your ambulance fleet. However, if KENT CamEye is installed in your fleet, you don't have to worry about such situations. This dash cam with GPS will help you stay aware of the activities happening inside the vehicle. You can check the live, in-cabin view of the ambulance vehicle on your fleet dashboard. You can check who all are sitting inside and what sort of activity they are involved in. It can let you understand whether they are genuine people or not. This way you can ensure that your ambulance fleet is used for authentic work only.
Track the route your ambulance is travelling on:
A small delay in ambulance transit acts as a matter of life and death but tracking the live route of the ambulance is least of the thoughts that comes to mind. Being the person responsible for the operation of the fleet, it is your responsibility to watch over the route an ambulance follows while carrying emergency patients. You need to be vigilant to ensure that the vehicle follows the correct route and, reaches the destination on-time.
KENT CamEye offers the best solution as a dash cam with GPS location tracker. It would allow you to check the live location of the vehicle, on the map. You can see the route on which the ambulance is moving to understand whether it is wrong or right. In case, the driver is taking a longer route, you can guide him with shorter one through the 2-way calling feature in the device. Moreover, you can create geo-fence around the location so that if the vehicle turns towards a wrong direction you will immediately receive an alarm informing the same. Thereafter, you can take the needful course of action.
Hence, to have a complete hold over your ambulance fleet, nothing can beat the features and convenience of KENT CamEye.