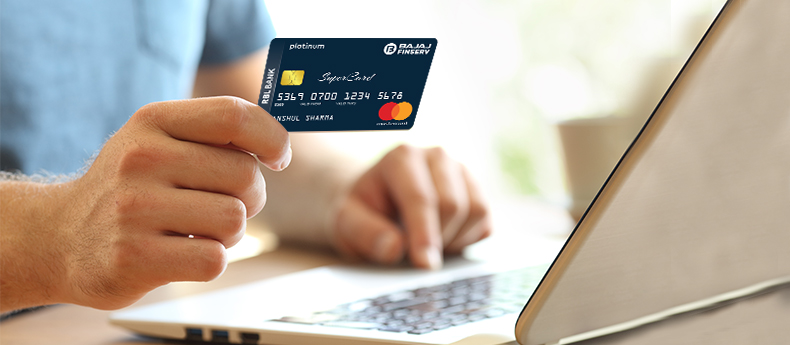 Bajaj Finserv EMI Card is a special and unique network card that you can use to buy a range of products online. It converts your purchases into easy EMI that are custom made for you! Bajaj EMI Card is essentially like your e-wallet in which the amount is debited every month is pre-decided, custom made installments. The Bajaj EMI Card can be used both online and offline, to purchase an amazing range of essential and luxury products such as home appliances, electronics, decor, furniture, accessories, lifestyle, and even medical benefits, flight bookings and much more! This card is not only great for online purchases, but is also accepted in more than 60k stores across India in nearly a thousand cities in the country and counting!
You can make easy and safe payments online using the Bajaj EMI Network Card, and it provides accessibility to the best selling products. Whether it is the latest smartphones, laptops, TV and home entertainment sets, refrigerators, air conditioners, water purifiers, washing machines, clothes and fashion products, accessories and more, you will find just about everything under one roof in this next generation eStore. Get the hottest deals on your desired products and appliances without it being too heavy on your pocket, because Bajaj Finserv believes that happiness comes first, and payment later!
Bajaj EMI Card also has a pretty simple eligibility criteria. You just need to be between 21 years and 60 years of age and have a regular income, and you can hop onto the bandwagon and join lakhs of users who use Bajaj Finserv EMI Store to buy their favourite products.
But not only that, Bajaj Finserv also has the Experia customer portal, which you can use to make all your payments, buy insurance policies, download statements, manage your loans and much more. All you need to do is login to the portal. It is also very easy to log in to this customer portal and update your card details! Simply go into the Bajaj Experia login page and enter your email ID and username, or just put your registered mobile number in the Bajaj Finance login field on Experia. It's that easy!
Shopping with Bajaj EMI Card and using the Experia customer portal gives plenty of exclusive benefits and perks to all the EMI Network Card users! Now who wouldn't want to shop when there is a pre-approved loan of up to Rs. 4 lakh, no cost EMIs, and easy, not to mention minimal documentation process! And not just the documentation, even the products that you purchase through Bajaj EMI Network Card shopping require minimal fees, and absolutely zero down payment as a cherry on top!
Online shopping has never been this easy. Bajaj Finserv aims to make your life easier! Shop to your heart's content on our EMI Store for a myriad range of products across the biggest brands and make payments, manage your loans, and even buy insurance policies on the Bajaj Experia customer portal. Why worry, when Bajaj Finserv is here!